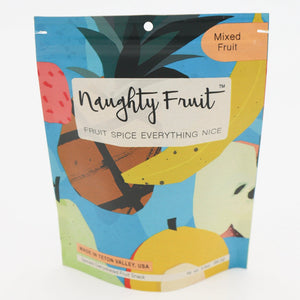 Naughty Fruit
Fruit Medley
Sale price Price $ 7.95 Regular price
Our best seller!
Chewy, sweet, tangy, delicious and 100% raw! A tropical medley! Ripe bananas, strawberries, mango, strawberries, pineapple, Local Idaho pear and crisp local Idaho apples meet lemon, chili and salt in this convenient and travel-ready resealable pouch! 
Ingredients: Banana, pineapple, mango, apple, pear, strawberry*, chili pepper, salt, dehydrated lemon juice. 
Our products are dehydrated at low temperatures.
3.5oz bag. *Seasonally Available.