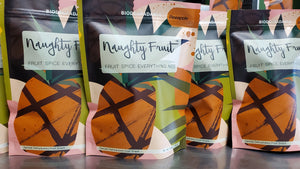 Naughty Fruit LLC
Pineapple Package "Buy One, Give One"
Sale price Price $ 125.00 Regular price $ 397.50
We are offering a 
'Buy One, Give One'
 deal. For every Naughty Fruit Pineapple Package(#25 Bags) Purchased we are going to match your purchase and donate a Package to the Teton School District 401 Child Nutrition Program. It comes with #25 of our New Pineapple bags. With the support
 of Food Service, Child Nutrition Director Kathy Rowbury and our staff at Naughty Fruit 
we want 
to 
offer
 a healthy local fruit snack alternative as a gift
. Our way at Naughty Fruit to give back to our community through our youth. Support local, eat local and buy local.