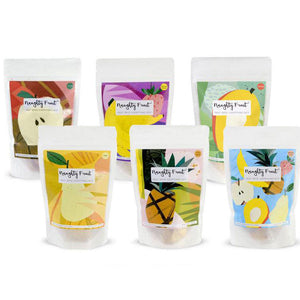 Naughty Fruit
All in One Pack
Sale price Price $ 44.42 Regular price
Enjoy this all-in-one pack!
You get a (1) bag of Strawberry-Banana, (1) Pineapple, (1) *Mango, (1) Apple, (1) Pear, (1) Medley.
Chewy, sweet, tangy, delicious and 100% raw! A tropical medley! Our ingredients include ripe bananas, mango, strawberries, pineapple, pear and crisp apples meet lemon, chili and salt in these convenient and travel-ready resealable pouches. Order online now!
Our products are dehydrated at low temperatures.
Box of 6 x 3.5oz bag. *Seasonally Available.